Sign Up For A Free Consultation in Voluntown CT Now
Welcome To Hayes Services LLC.
We believe there are many reasons to choose Hayes Services llc. Whether you need excavation site work, dumpsters, tree removal, or snow removal, we have you covered. Our professional, polite, and courteous staff of salesmen, drivers, operators, laborers, and office personnel will provide an efficient and smooth path from project start to project completion. Our employees are what set us apart. Through their care of effort, our performance and execution is second to none. Please give us the opportunity to convince you first hand. We will not let you down.
Top Rated Hydroseeding Services Voluntown CT, Brush Removal Services Voluntown CT, Junk Removal Voluntown CT, Sod Installation Services Voluntown CT, Stump Grinding Service Voluntown CT, Lawn Seeding Services Voluntown CT, Excavation Services Voluntown CT, Dumpster Rental Voluntown CT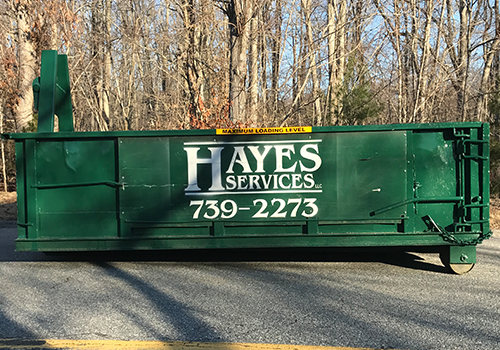 Looking to rent a dumpster? A roll off dumpster is a simple and cost-effective way to remove tons of debris from your home, business or work site.  We at Hayes Services strive to make it a quick and easy process. We provide fast service with affordable rates. We have residential and commercial dumpsters for any job, whether it is big or small.
Soft sided dumpster bags are made from a flexible woven material that makes owning a personal dumpster possible. These heavy duty debris bags truly make construction waste disposal or other debris removal, such as junk from moving and cleanouts, EASY- Great for contractors, homeowners, renters, and businesses alike! Disposable dumpster bags are for single use.
At Hayes Services we specialize in tree removal. We can safely remove any tree regardless of size, location or condition. By utilizing our state of the art equipment, expert climbing skills, and extensive experience, we make even the toughest jobs look easy. We have been an area leader in tree removal since we were established.
Do you want to transform your backyard into a place where you and your family would love to spend time together? Is your home in need of something new – something to add beauty and set your home apart from the rest? A brand yard can provide all of this….and more! Contact Hayes Services now!
Well-equipped and professionally trained, the Hayes Services team is up to the toughest challenges, especially those created by winter storms. Our expertise combats even the worst snow and ice Mother Nature can produce.
OUR SERVICE AREA
We serve the following areas
CONTACT US TODAY TO SCHEDULE A FREE ESTIMATE IN Voluntown CT
If you have an upcoming project which makes renting a dumpster necessary, or you are looking for professional junk removal, tree removal or snow removal services, you have come to the right place. Here at Hayes Services, we are dedicated to satisfying your needs as our customer, no matter the size of your endeavor. With more than a decade of experience in the business, we have the necessary expertise to help.
Hayes Services, LLC provides waste material hauling, site clean up as well as junk removal, brush removal services, dumpster rental, stump grinding service and excavation services. We have been serving Voluntown CT state since 2003.
Call us or contact us online to schedule an consultation today! We provide free estimates for all work needed to clear, dump, excavate or clear trees or snow from your project, home or commercial property.
Dumpster Rental Near Me
Dumpster Company Near Me
Dumpster Rental Company Voluntown CT
Dumpster Rental Services Voluntown CT
Dumpster Rental Contractor Voluntown CT
Commercial Snow Removal Voluntown CT
Snow Removal Voluntown CT
Junk Removal Voluntown CT
Tree Cutting Company Voluntown CT
Tree Removal Voluntown CT
Stump Grinding Voluntown CT
Stump Grinder Voluntown CT
Landscaping Company Voluntown CT
Commercial Landscaper Voluntown CT
Dumpster Rental Company Connecticut
For all your home improvement needs in Voluntown, CT, Hayes Services CT has got you covered! We offer a wide range of high-quality services, including hydroseeding, brush removal, junk removal, sod installation, stump grinding, lawn seeding, excavation, and dumpster rental services, all designed to help you achieve your home improvement goals quickly and easily. Our hydroseeding services are perfect for homeowners and contractors alike, providing you with the perfect solution for your lawn or garden. Our team of experts will work closely with you to determine the right type of hydroseeding for your needs, ensuring that your lawn or garden looks lush and green all season long.
In addition to our hydroseeding services, we also offer top-quality brush removal, junk removal, sod installation, stump grinding, lawn seeding, excavation, and dumpster rental services, helping you to keep your property looking its best year-round. Our experienced team of professionals uses the latest equipment and techniques to safely and effectively remove any unwanted debris, stumps, or brush, leaving your property looking clean and tidy. If you're in need of top-quality excavation services, we've got you covered there as well. Our team of experts has years of experience in excavation, and we use only the highest-quality materials and equipment to ensure that your excavation project is completed safely and efficiently.
So why wait? Contact Hayes Services CT today to learn more about our top-quality home improvement services, including hydroseeding, brush removal, junk removal, sod installation, stump grinding, lawn seeding, excavation, and dumpster rental services. We're here to help you achieve your home improvement goals quickly and easily!